"OUR JOURNEY FOR THE BEST JERRY CAN"
(via bbqandpatio.com)
If you're like us, then you've probably owned or have done your fair share of searching for the right gas cans. After one of our loyal customers asked us if we know what the best jerry can is, or do we know of any at all that are good and would last.  We decided to take this problem head on.
IS THERE SUCH A THING AS THE BEST JERRY CAN?
Well let's dig into some history. As of 2009, all new portable fuel containers in the US must meet new Mobile Source Air Toxic regulations based on the California Air Resources Board's(CARB) regulations, and they must meet the requirements of the Children's Gasoline Burn Prevention Act. Of course, these regulations seem like they aim to correct serious issues, but we feel it has created useless features that cause more spillage and harm to the environment.
WHAT WE LOOKED FOR
Well we decided to go with the best Jerry cans for spillage, quality and ease of use. We didn't find many, but we feel the choices we selected are perfect for anyone looking for the best can available. After extensive research we found that the best cans are the NATO cans. These are high quality products built for rugged use.
Now if you do not select any of the items on our list, make sure you choose cans that are designed to NATO specs and NOT NATO style. We hope you enjoy the information provided.
VERIFIED #1 BEST JERRY GAS CAN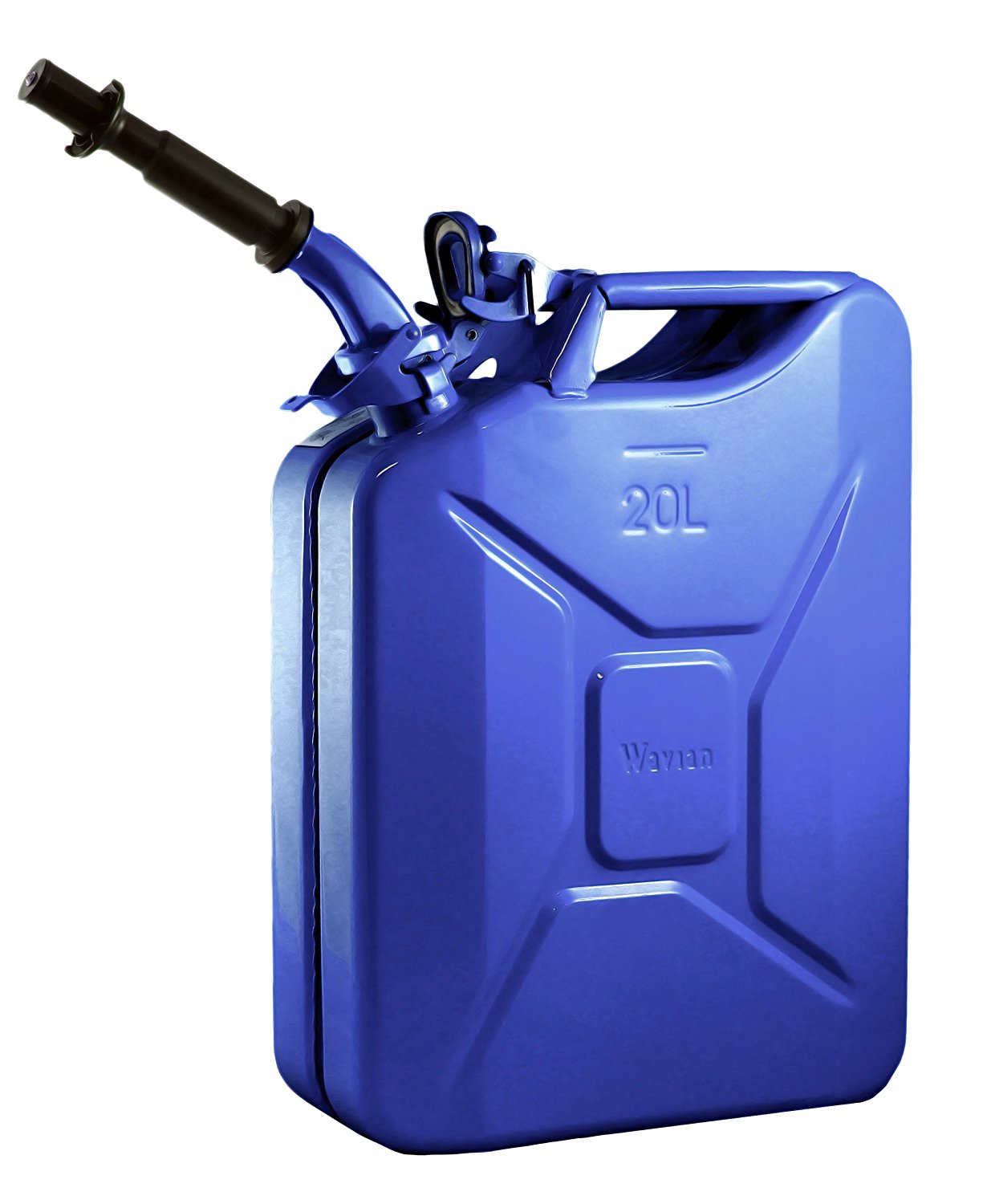 This is the best jerry can available. It holds 5.3-gallon, leak-proof and it comes directly from Wavian, the factory that has supplied many NATO countries for over 75 years, and are the highest quality fuel cans on the market today.
Rigorously tested, they boast a number of features, including 0.9 mm steel walls, an interior rust-proof reznol lining, internal breather pipe for splash-proof pouring, a three handle configuration for easy carrying, a leak-proof bayonet closure, and a locking pin for the cap.
Wavian currently produces the only EPA, CARB, and DOT approved steel fuel cans that are 100% legal in all 50 US states. Includes spout and an adapter for vehicles with smaller filler receivers. FREE SHIPPING for all Wavian Fuel Cans in the continental US.
Features:
Made out of 0.9mm cold rolled steel.
Unique wide channel breather and smooth pouring spout.
Lined to prevent rusting with a petrol, water, and alcohol resistant coating.
The cap has a locking pin (international patent) to ensure it cannot be opened accidentally.
The bayonet closure is completely leak-proof with the can in any position.
Three-handle configuration for easy grabbing and carrying of multiple cans.
Manufactured and tested to comply with Australian Standards – AS2906, Swedish Standards – SP, German Standards – TUV/GS, and UN Dangerous Goods.
EPA and CARB certified, built to ASMT, NFPA, and DOT standards.
OSHA compliant.
Approved and fully legal for sale in all 50 states.
Spout Features:
Works on all gasoline vehicles with included adapter.
Works on all diesel and equipment tanks.
Fast flow rate.
Leak-proof.
Dimensions
(L x W x H): 6½ x 13½  x 18½
Weight: 12lbs
---
VERIFIED 2ND BEST JERRY CAN
SECOND GEN. TERAPUMP TRFA01

Flexible Intake Hose
TRFA01 Flexible intake hose provides flexibility to help grap the very last drop of fuel from your. It can fit most sized fuel cans. This effectively reduces wasted fuel and allows for a much pleasant tranfer process.
3 Different Sized Adaptors
TRFA01 comes with 3 different sized adaptors, allowing your new gas pump to fit most Noth American fuel cans. Thse adaptors will give a tight and clean fit to ensure these won't be any gas fume or gas leaks. Just twist on your pump and leave it on!
Auto-Stop & Leak Protection
The built-in advanced auto-stop feature automatically stops when the transfer process is complete. Just sit back and watch it work!
Other
Refuel in the Garage or On-the-Go!
No Worries, No Mess or No Hassle just Sit back & Relax with the new Auto-Stop Innovation System.
Suction Hose with Impeller
Simple Power Buttons
Uses 4 AA Batteries (Not Included)
Transfer Rate of 2.5 ~ 3 Gallon Per Minue 
Improvements and Updates: Longer hose (25″ to 35″) / More Poweful Motor (20% up) / Fuel More Resistant Plastics
Size: 14 x 6 x 3.5 Weight: 1.2LB / Transfer to several outlets like gas can / vehicle/ lawn mower so on!
3 gallons per min / Requires 4 AA batteries (which are not included) / Flexible Intake hose / No-spill Auto-Stop Nozzle
Fits Most North American Fuel Plastic Cans with 3 different adapters size (included)
No Mess No Worries No Hassle – Sit Back and Relax!
---
VERIFIED 3RD BEST JERRY CAN
JUSTRITE GALVANIZED STEEL TYPE II RED SAFETY CAN

Eagle 5 Gallon Red Safety Gasoline Can meets OSHA and NFPA Code 30 requirements and are UL and ULC listed and are FM Factory Mutual approved for the safe handling and storage of gasoline and other flammable liquids. Eagle cans feature Lead Free Technology, constructed of 24-gauge hot dipped Galvanized steel, deep drawn one piece seamless body construction, non sparking brass integral pour spout, with a spring closing lid with neoprene gasket which vents at 3-5 psi internal pressure.
The can features a fixed handle and patented comfort grip trigger release for easy dispensing, a double interlock no-weld bottom seam, 100% Leak tested, and a baked on red powder coat finish. Eagle cans are made in the USA, by USA workers and with USA quality. Family owned business making quality products since 1894 in Wellsburg, West Virginia
Features
This product adds a great value 
Product is highly durable and very easy to use 
This product is manufactured in the USA 
5 gallon gasoline Safety can with poly yellow funnel 
100% leak tested, UL and ULC listed and FM Approved 
Has flame arrestor screen 
Patented comfort grip Trigger release with spring closing lid and fixed Handle 
Red baked on powder coat finish over lead free galvanized steel construction"
---
To read the full article featuring the complete top 10 Jerry Cans, click here to goto bbqandpatio.com